Phil's newest single "Another Day In Paradise" is currently #3 on American Country Countdown,
after having spent some time as #1!

Congratulations Phil!!!

You can hear a clip of both Top 40 Hits 'Carlene' and 'Another Day In Paradise' by clicking below now!
Here's a complete track listing for the album:


1. Carlene
2. Another Day In Paradise
3. That's When I Love You
4. Rose Bouquet
5. Joe And Roselita
6. Six Pack Summer
7. Lucky As Me
8. Like I Never Loved Before
9. Didn't You Know She's Gone
10. Somewhere In Between
11. Drive Away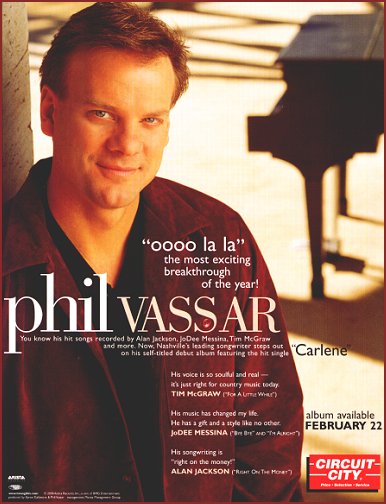 Phil Vassar's self-titled album ("Phil Vassar") was released Tuesday, February 22nd on Arista/Nashville.
Visit amazon.com now and pick up your copy!

Phil has a featured review at countrycharts.com!


You Will Need Real Player G2 to listen to Audio Clips!
Please download it free from Real Networks if you don't have it!

Visit the Arista Site for more on Phil's debut album!

No Infringement intended upon Arista/Nashville